Ulster Rally 2011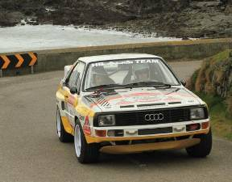 Ulster Rally 2011

We are delighted to hear from Area N, the Irish branch of the Quattro Owner's Club! Brian McClay reports on 2011's Ulster Rally.
The Ulster Rally 2011 with Brian McClay
This year there was a Quattro in the Toddsleap Ulster Rally. Ok it was an S2 but with a few ur quattro's running aan engines, it was not too far removed from the family group. Started and finished without any dramas and just goes to prove how reliable these lumps can be even though they maybe a little dated.
There were two course cars with closer ties to the ur quattro family. One was Ivan's A1 purpose-built rally car with an RS4 2.7 twin turbo engine. This performed without a hitch fulfilling the course safety car role.
As Ivan and wife Evelyn were driving the competition car driving the A1 was left to Glenn Campbell a local rally driver who has competed in several rallies, the last being the Barbados Rally. Navigating was Noel Elliot who is a long time urquattro owner and keen participant in Quattro outings.
The other quattro was Dermott Simpson's Michelle Mouton S1 replica finished in the 1985 HB colours which is a regular at rally events over here.
Weather was warm and sunny which is not the norm in this part of the UK but helped to make such a great day out for anyone who turned up for the event.