German Car Show at Haigh Hall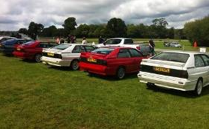 German Car Show, Haigh Hall, Wigan

14th August 2011

A big thank you to Phil and Lorraine Jameson for organising this well attended event, which saw over 250 cars turn up.

German Car Show at Haigh Hall

A brilliantly organised event which saw several Areas come together, the German Car Show was one of the highlights of the summer. With great food and entertainment on offer, it was also a chance to view over 200 classic cars up close.
Several areas attended the free-show, at Haigh Hall near Wigan, with many organisers making reference to the show in their September reports. Sharon Crichton, formerly organiser of Area C1, was amazed at the "fantastic amount of cars, and the food wasn't bad either!". Area C2 organiser, John Johnson, said that the event had "all the things needed for a great day out." Area D2 was also well represented, with all members looking forward to next year's event.
It's multi-area events like this that make the Quattro Owner's Club so special! Thanks to Phil and Lorraine for organising this, and we can't wait to see what lies in store in 2012!